pregnancy & breeding info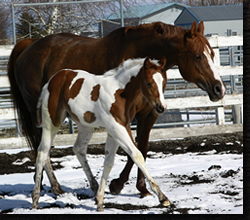 RH Decide On Me
Sorrel Overo
15.2 H - HYPP N/N - OWLs Neg. - 1200#
Barn name:
Mia
Sire: May I Decide (Superior Producer)
Dam: RH Misty Te (Superior Producer)
Superior Halter, 145 Halter Points, Open Honor Roll
After a very difficult delivery for Mia in 2016 and a bad tear that could have easily taken her life the vets have recommended that we do not allow her to carry another foal. Since this was her 14th delivery we feel she has earned a much needed vacation. We might try and embryo transfer her in the future.
2015 Breeding
Classy Will
1997 Bay Tobiano Stallion
Superior & Futurity Champion Producer
Sire: My Macho Man
Dam: Classy Doc Tari
Standing & Owned by: Kruger Ranch, Rathdrum, ID
Maddie's Foaling History:
Breed Date

Sire

Foal Date

Comp.

# Days Ges

Sex

Color

April 15

Classy Will

4/16/16

Leg Back

344

Colt

Bay Tobiano

April 13, 15

Classy Will

3/21/15

Should Lock

340

Colt

Bay Tobiano

April,18, 20, 22

Classy Will

3/19/14

None

329

Filly

Chestnut Tobiano

Feb

Obviously Mortgaged

2/12/13

None

330

Colt

Chestnut Overo

Feb, 14,16, 18

Classy Will

1/25/12

None

341

Filly

Chestnut Tobiano

Feb - 19

Barlink Gold Rush

1/22/11

None

336

Filly

Palomino

Barlink Gold Rush

2/11/10

None

350

Colt

Chestnut
Overo