Greener pastures
Greener Pastures is a way for "Starlight Ranch" to cherish the memories we have had over the years and celebrate the life we once shared with family members and good friends. As well as special horses we have raised that have touched our lives.
The water is rumored
to carry a miracle!

Picture by: Thomas Kinkade

If God brings you to it, He will bring you through it.
Happy moments, praise God.
Difficult moments, seek God.
Quiet moments, worship God.
Painful moments, trust God.
Every moment, thank God.
In Loving Memory of my Father
L. Bruce Tate
(June 13, 1927 - January 23, 2014)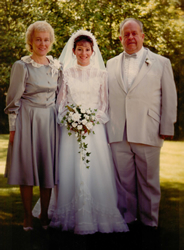 Longtime Garfield resident Larry Bruce Tate, 86, passed away on January 23, 2014 at Pullman Regional Hospital.
Bruce was born to Alice E. Hayden Tate and Thomas H. Tate in Butte, Montana on June 13, 1927. He attended schools in Tacoma, and graduated high school in Morton, WA. The Tate's were loggers in many areas of Washington State and shortly after high school at age 18 Bruce moved to Garfield. He purchased a truck for hauling grain and starting TATE & SON Trucking and Bruce spent the next 23 years single and driving truck.
He was seen regularly dancing at local grange dances, the Riverside dance hall outside of Potlatch and seeing live performers of the age such as Johnny Cash in 1958. Bruce loved music and had quite a collection of old records. During these years, he and a friend, Bill Humphrey, enjoyed Bruce's 1946 Chrysler with Rover Boys on the mud flap.
He met Patricia Ann McManus of Butte, Montana in the fall of 1968, and they were married May 31, 1969. Bruce and Patsy's life dance was best represented by the song "I just want to dance with you" recorded by George Strait. Though it came out 30 years after they met, they listened to it in the car and, until recently, dad would often dance with mom up until his knees had no more dance left in them. Bruce also taught all the kids to jitterbug in the front room of their home. Bruce and Patsy had four children: Leila Marie, Christopher William, Timothy Edward, and Gregory Thomas.
Bruce was known to have moved seven times while living in Garfield, all within a block. While Bruce was not a water or snow skier, his family enjoyed both and he loved driving his boats lap after lap until all the kids, cousins and friends were worn out from water skiing. Bruce, with his family, went on many trips. First, he had a green 1965 Dodge crew cab, then a green 1973 Dodge crew cab with the piggy back camper. They traveled from the Calgary Stampede, to Yellowstone National Park and all through the Pacific Northwest.
Bruce and his father Tom trucked the spire for the Garfield Christian church, moved the old metal span Colfax Bridge from its original location to a rural road outside of Colfax. Bruce also, hauled the Garfield float to the Lilac Parade, small town events and the Whitman County Fair for many years. Once hauling the float from Spokane's Lilac parade on May 18, 1980, he arrived and the float was under cover before inches of Mt. St. Helen's ash fell on Garfield. Bruce's greatest joy in life was being a father, grandfather and great grandfather.
Bruce is survived by his wife Patsy A. Tate; sister Shirley E. Baenen; daughter Leila M. Styer, sons Tim Tate and Greg Tate, niece Stephanie Baenen Bell, sister in law Janice Tate, nephew Keith Tate, niece Stacie Tate Campion, son in law Tom Styer, granddaughter Savanna Styer Quinlan and husband Kris Quinlan, grandson Mack A. Tate, granddaughter Christie A. Tate, great grandson Judd T. Quinlan, great granddaughter Kily J. Quinlan.
Bruce was preceded in death by his parents Tom and Alice Tate, his son Chris Tate, nephew T. Martin Baenen, niece Stacey Baenen McGahey, and his brother Jerry Wayne Tate.
The family suggests memorial contributions in Bruce's honor be made to the Cystic Fibrosis Foundation, 6931 Arlington Road, 2nd floor Bethesda, Maryland 20814, in Memory of Bruce and in Honor of his great grandson Judd Thomas Quinlan.
---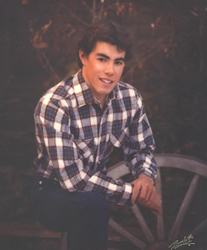 In Loving Memory of my Brother
Christopher W. Tate
(June 1, 1964 - February 13, 1990)
Chris has touched our lives forever as my brother and good friend. He was a sprit of life and giving of self, Chris enjoyed life to its fullest while on Gods earth. Chris was in love with nature and everything it had to offer, from the water, to the mountains. Family was strong and his loss has been felt by many. We know you are in Greener Pastures, while watching over each of us every day.
---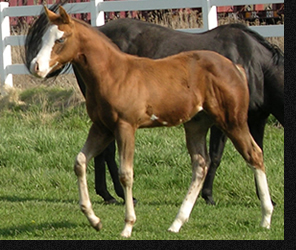 In Memory of:
SR Sucha Rush
2008 - 2009
Accident
Rudy was a fun colt, with lots of potential. But was out playing one day and fell and received a neck injury. He improved for a few months but then took a turn for the worst and his owner Kristy had to make the hard decision. Tucker will be missed!! God will be watching over him as he runs and plays in gods pastures.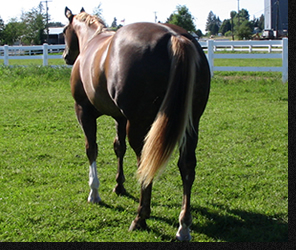 In Memory of:
SR Obviously Macrifik
2006 - 2009
Loss due to colic
Samie was a beautiful filly by Macriffik Made, our heards go out to Cara and family on the loss of this mare. God will be watching over her as she runs and plays in gods pastures.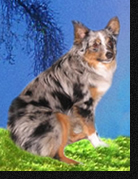 In Memory of:
Cowboy
April 2006 - February 14, 2007
Accident
Cowboy came into our lives at a time we needed him most. He made us laugh with his special looks and watch in awe of how fast he picked up new things being taught. He was our companion at all times especially when checking the mares late at night. He saved Midnight's life in November when her uterus flipped and looked over the mares like they were his. God will be watching over him as he runs and plays in gods pastures and find Chris to keep company.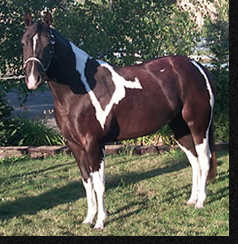 In Memory of:
Machos Classique Jade
April 12, 1999 - April 2, 2004
Loss due to colic.
Jade will be greatly missed as she was a filly with the biggest heart and love for her owner Sara. God will be watching over her as she runs and plays in gods pastures.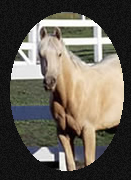 In Memory of:
IMA Golden Sunrise
April 16, 1995 - June 20, 1998
Loss due to accident in the pasture.
Sunrise ' love for her owner Virginia was strong. This summer we also lost Virginia, Sunrise's owner due to cancer. We know in our hears both have meet again in Gods Green Pastures enjoying life running free together. We miss you both!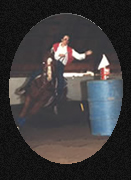 In Memory of:
Chief Thunderbolt
May 1, 1977 - November, 1990
Early one frosty fall morning, a power line broke and killed Thunder instantly.
Thunder was full of passion to run, he competed with stamina not found in many horses. I will always cherish the memory of the O-Mok-See in Grangeville, Idaho. We arrived after it had rained for two days before the O-Mok-See. Once arriving everyone was concerned about the ground as it was mush not mud. Our first run out I tried to hold Thunder back so he wouldn't get hurt, we placed second but he was fighting me the whole time. The next 8 events I let him go at his pace. He ran the best times we ever made as well as taking first in all the classes except for the first when he placed second. That is when I found out he was a mud horse and had so much fun even having to hose off his boots after each and every run. You are missed!!!